The Butterfly is the latest addition to Chef Michael White's growing empire.  Michael White is a Michelin starred chef most famous for Marea uptown, Osteria Morini and Ai Fiori downtown.  His training is in Italian food, but most recently he's going back to his mid-western Wisconsin roots.   We'd heard it was inspired by his hometown in Wisconsin and that it was a 'supper club'.  We were so pleasantly surprised when we got there!  It is a small and cozy mid-century modern cocktail bar.  The menu is mainly heavy noshes which are the perfect pairing for classic cocktails.  The cocktail creator is Eben Freeman, a well known mixologist who created cocktails for Wylie Dufresne at WD-50.
The theme is well executed in the decor, with starburst clocks and a massive mirror creation behind the bar.  One touch that made me chuckle is the paper liners used underneath some of the deep fried dishes (croquettes and pork rinds).  It uses the 50's butterfly logo in a print like you'd see on your napkins or paper towels.  All of the details are covered.  I also loved the Dansk-like wooden trays (zucchini pancakes and whitefish mousse).
The cocktail menu includes drawings of classic cocktails like the Tom Collins, Highball, Whiskey Sour, Martini and Grasshopper.  Their web page provides a full description along with the graphic.  We had two each – cocktails were executed with precision by Sarah, our lovely bartender.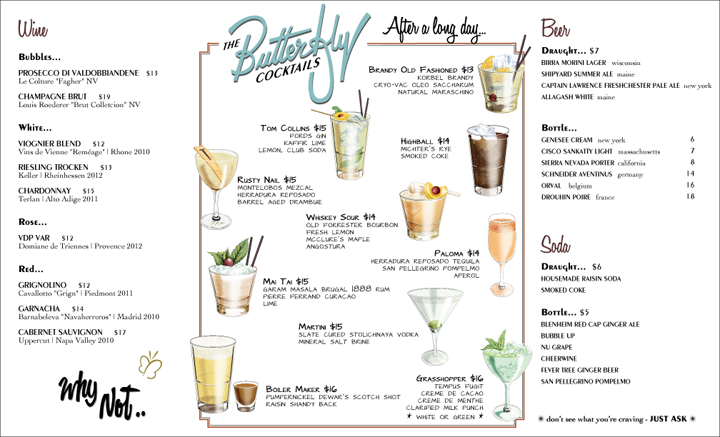 MARTINI  $15
slate cured stolichinaya vodka  •  mineral salt brine
Slate cured vodka is just that, raw slate from the Brooklyn Slate Company in Red Hook is soaked in vodka for two days. After two days, the vodka is strained through a micro filter and bottled. The slate imparts a minerality similar to that found in good Chablis. This is otherwise a traditional vodka martini which only became popular in the U.S. in the 1950's when James Bond ordered his famous "Shaken, not stirred" martini in Ian Fleming's first novel Casino Royale published in 1952.
MAI TAI
garam masala brugal 1888 rum  •  pierre ferrand curacao  •  lime
This is a real, true to form Mai Tai, not the red rum punch which is now commonly found at hotel bars around the world. "Trader Vic" Bergeron is believed to have created this drink in the early 1940's at his self named restaurant in California . After the second world war when Americans were returning from the Pacific Islands and Hawaii, Island culture and the luau became very popular in the United States. Tiki culture was huge in the 1950's and our split bamboo bar is a testament to that era. The classic Mai Tai is simple combination or aged rum, fresh lime, orange curaçao ( a liqueur similar to Grand Marnier) and orgeat or almond syrup. Our Mai Tai uses this exact recipe only the rum has been infused with an Indian spice mix of dry roasted whole spices; cinnamon, clove, mace, black pepper, cumin, cardamom, fennel and fresh green curry leaves. Keeping in the tradition of spiced rum such as Captain Morgan, this spiced rum is just a bit savory.
The menu is focused on hors d'oeuvres and a small assortment of salads, entrees and sides.  The word is the Patty Melt is outstanding.  We enjoyed the great comfort food 50's food with a modern twist and stuck 100% with the hors d'oeuvres.  Love it!  When was the last time you used that word?
We began with the Reuben croquettes, a genius idea.  Hot and cheesy, they are a bit of a tease.  Our absolute favorite were the zucchini pancakes, which were mini blintzes with creme fraiche and roe.  They melt in your mouth.  We'd recommend these two items as a must-have.  But of course we over eat, so we got two additional items.  The first was the pork rinds.  For the most part a pork rind is a pork rind.  But these were fun since they popped and crackled the entire time they were in front of us.  As you eat them, the air bubbles burst in your mouth.  And last, we had the smoked whitefish mousse.  It is a large portion, so if you order this go lightly.  It has a lovely smooth texture and light caper flavor.
REUBEN CROQUETTES  $9
corned beef, sauerkraut, rye thousand island
ZUCCHINI PANCAKES  $13
creme fraiche, shallot, dill, trout roe
PORK RINDS  $8
pecorino, cracked pepper, rosemary
SMOKED WHITEFISH MOUSSE  $12
roasted garlic, pickled celery, fried capers, toasted baguette
We are thrilled with the number of new places popping up near us in Lower Manhattan.  This  is one place we will frequent.  What an absolutely enjoyable experience!  Kudos to Michael White and Eben Freeman for a brilliant partnership.
http://thebutterflynyc.com/index.php
225 West Broadway – Tribeca